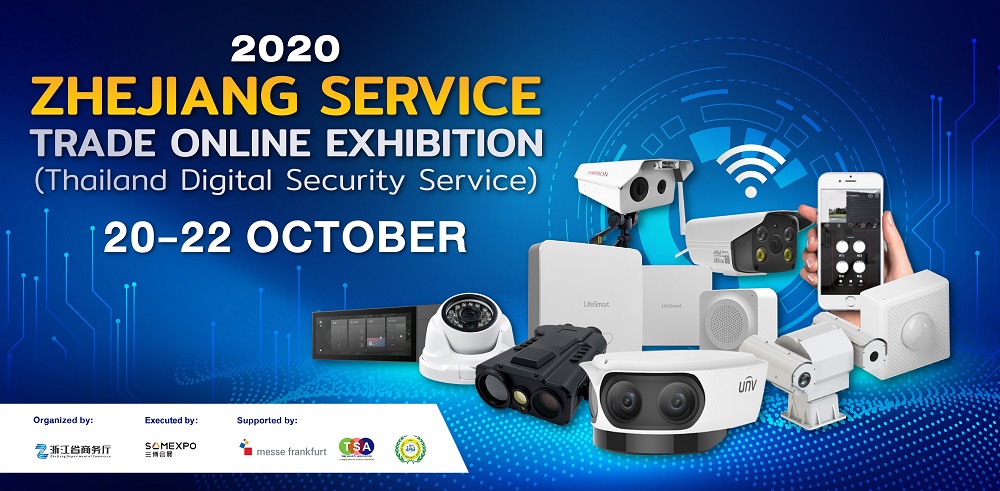 2020 Zhejiang Service Trade Online Exhibition (Thailand Digital Security Service), hosted by Zhejiang Department of Commerce and contracted by Zhejiang Samexpo Exhibition & Convention Holdings Co., Ltd, will be taking place from 20 – 22 October by ZOOM. The project received strong support from Mess Frankfurt, THAI SECURITY ASSOCIATION (TSA), and Asia Pacific Security Association (APSA) Thailand.
During this period of global pandemic, Zhejiang Department of Commerce has been committed to the mutual assistance and cooperation among international sister cities, and launched the provincial foreign trade enterprises to help the development of foreign trade for six consecutive months.
As the second largest economy in Southeast Asia, Thailand's market has radiated to Myanmar, Laos and Cambodia, and the market demand for digital security is also growing. The local market is mainly composed of integrators, and Thailand has set long-term economic goals in its 20-year national strategy (2017-2036). The strategy includes Eastern Economic Corridor (EEC) public infrastructure projects including smart city development and eastern economy. The European economic community has achieved great success in attracting multinational enterprises to invest in Thailand. These investments will build a wide transportation network: 30 industrial areas and more than 5,000 factories. Recent reforms in the country, as well as large-scale projects in infrastructure and transportation, have increased the demand for products in the field of digital security.
More than 20 Zhejiang security enterprises with relevant qualifications and certifications such as Zhejiang Uniview Technologies Co., Ltd, Soyea Jiurong Technology Co., Ltd, Ningbo Rayonics Technology Co., Ltd, and Hangzhou Jufeng Technology Co.,Ltd, as well as other service and export enterprises and professional security procurement enterprises from Thailand will participate in the online exhibition. Based on the current demand from Thai buyers, the exhibition includes: security solutions and equipment consisting a full range of digital security, thermal body temperature monitoring solution, fire detection and alarm system, public alarm system, access control, and more. During the three day event, the Zhejiang enterprises will communicate one to one with Thai buyers to display digital security service with an estimated 100 rounds of trade negotiation.