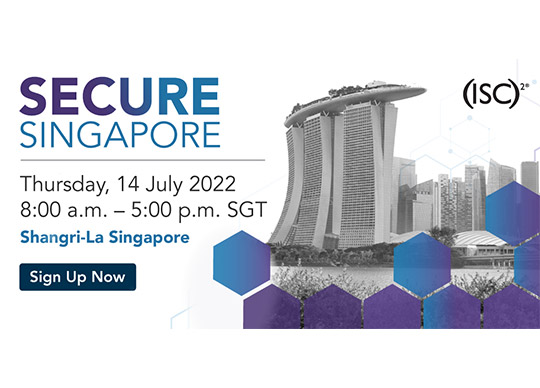 (ISC)² has published the final agenda and speaker lineup for its SECURE Singapore event taking place on July 14th, 2022 at the Shangri-La Singapore.
Delivering the keynote for (ISC)2's first SECURE event in Singapore is David Koh, Commissioner of Cybersecurity and Chief Executive of the Cyber Security Agency of Singapore (CSA).
Koh will be taking attendees on a deep dive into the convergence of cybersecurity within information technology (IT) and operational technology (OT), looking at the growing data-centric and automated nature of cybersecurity across both disciplines and the increased attack opportunities IT and OT present for bad actors. The conference program also includes sessions and panels on:
Using NIST Framework to Prepare Yourself for a Ransomware Attack
The Current Cybersecurity Landscape in Singapore
Cloud Security Best Practices
Risk Sensing for Third-Party Risk Management
Answering Forensic Incident and Response Challenges
"As a key economic center within APAC, Singapore is at the heart of cybersecurity developments in the region and has seen its workforce more than double in the last two years, but like much of the world, it struggles with a sizeable skills gap in the face of growing cybersecurity pressure," said Clar Rosso, CEO, (ISC)². "With SECURE Singapore – and all our physical and virtual SECURE events – we have assembled thought leaders and leading industry professionals who will share essential insights into the cybersecurity challenges and complexities facing Singapore as well as examining the impact of global trends, issues and legislation on the region."
Expert speakers at SECURE Singapore also include:
Rubaiyyaat Aakbar, Head of IT and Cybersecurity, DocDoc
Indrani Chandrasegaran, Executive Director, Cyber Security Services, Technology Consulting, Ernst & Young
Ivan Choo, VP Engineering, Horangi Cyber Security
Rajarshi Das, Senior Solutions Architech, Amazon Web Services
Kim Hock Leow, Asia CEO, wizlynx group
Anthony Lim, Fellow, Singapore University of Social Sciences & Advocate, (ISC)² Singapore Chapter
Wendy Lim, Partner, Cyber Security Consulting, KPMG
Richard Ong, Principal Consultant, Mandiant
Rob Phillips, Managing Director, APAC Head Incident Response and Digital Forensic Investigation, Kroll
Lawrence Tay, Director (Regulations), CSA
SECURE Singapore is open to both (ISC)² members and non-members. Members can earn Continuing Professional Education (CPE) credits for their attendance. Cybersecurity professionals in every stage of their career are encouraged to participate, from those new to the field or considering entering cybersecurity for the first time, to established experts and seasoned practitioners.